Explore the Mississippi River while in New Orleans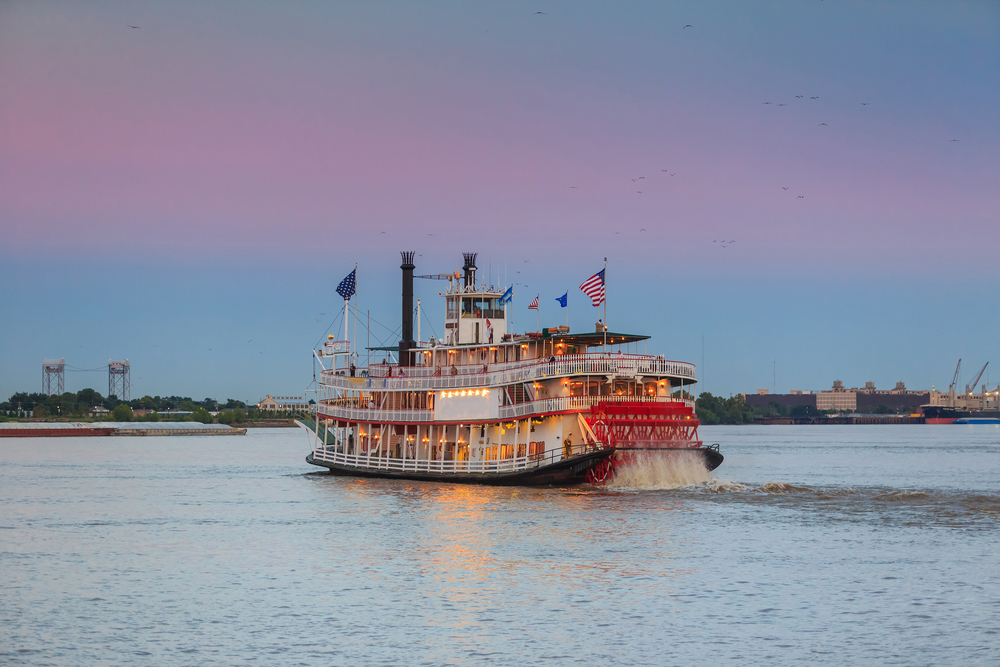 For New Orleans visitors who have never taken a tour of the Mississippi River, it's a great trip for new views of the city, historic background, live music, drinks and more.
The Mississippi River is just a short walk from Andrew Jackson Hotel, and tours are available throughout the day for curious guests.
The 19th-century steamboat era on the Mississippi was most famously recorded by Mark Twain in his Adventures of Huckleberry Finn stories. Take a trip back in time aboard Steamboat Natchez, one of the last authentic paddlewheel steamboats on the Mississippi. A variety of tours are available, whether you're interested in enjoying drinks and getting a history lesson, as well as brunch and evening dinner cruises with live jazz. Make sure to take a trip to the engine room for a memorable look at steamboat engineering.
Another related option is the historic Paddlewheeler Creole Queen, which offers a informative Chalmette Battlefield Cruise. The 2.5-hour cruise gives passengers a thorough history lesson before arriving to the site of the 1815 Battle of New Orleans where guests can explore the park. Like Steamboat Natchez, Creole Queen also offers an array of dinner buffet and live music options.
If you're looking for a shorter trip on the river, we suggest you opt for a day trip to discover the Algiers Point neighborhood via the Canal Street/Algiers Point Ferry. Operating since 1827, the Nola Regional Transit ferry offers a brief ride across the Mississippi River, usually for commuters. Rates are comparable to bus fare and you can tell your friends you crosses the Mississippi River. Schedule and location information here.
Algiers Point was founded in 1719, making it the second-oldest neighborhood in New Orleans. The neighborhood is small and walkable with old architecture and great bars and restaurants. Check out info for a self-guided walking tour to explore New Orleans' best-kept secret.
--
Booking your stay in The Big Easy? Andrew Jackson Hotel is an affordable, quaint, historic hotel located right in the French Quarter.
---
---