The Most Instagrammable Spots in the French Quarter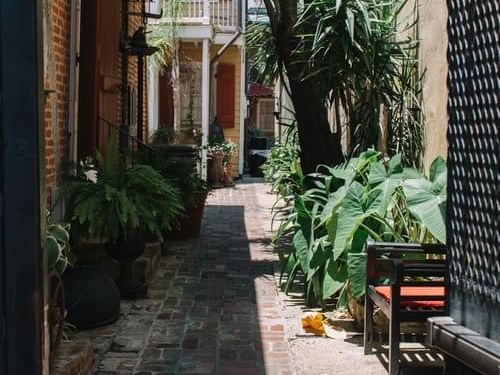 The French Quarter, in particular, offers a variety of unique and beautiful places for a photo. Historically, New Orleans was home to French and Spanish settlers, so the Quarter has a great mix of IG-worthy architecture.
Hotel St. Pierre
This hotel has what many picture when they think of New Orleans: a colorful exterior. Soft yellow with blue shutters, the outside of Hotel St. Pierre is the perfect place for a subtle New Orleans photo.
For another photo op, turn the corner to the alleyway leading into Hotel St. Pierre's courtyard. Filled with vast greenery and brick walls, it's the kind of location that inspires the photo caption, "plants are better than people."
St. Louis Cathedral
There's a reason the St. Louis Cathedral is one of the most iconic landmarks in New Orleans. With its three steeples overlooking Jackson Square, it stands out against the surrounding buildings. Whether you're Catholic or not, this building makes for a beautiful photo backdrop.
Jackson Square
Just steps away from the St. Louis Cathedral is Andrew Jackson himself – a statue of him, that is. This is yet another iconic New Orleans figure centrally located in Jackson square atop a bucking horse.
The symmetry of the park makes for an excellent photograph. This is especially the case if you angle it right to get the cathedral rising in the background.
The New Orleans Streetcar
The photo possibilities inside and outside a New Orleans streetcar are endless. Snap a candid while riding back to your hotel after a long day.
Have a friend grab a pic of you leaning out the window as the wind rushes through your hair, catching all the NOLA scenery behind you. Pose on the streetcar line with an incoming streetcar in view, but make sure it's not heading right for you.
Brennan's
If you're an Instagrammer with a theme, Brennan's Restaurant is the place for you. This restaurant boasts a delightfully pink exterior with black accents. The interior is much the same, featuring pink tufted chairs and a black and white tile floor. Talk about photo-worthy!
The French Market
The archway of the French Market may appear unassuming, but a photo in front showcases a number of stalls and businesses behind you. You'll get some extra photo opportunities if you visit during a holiday or special occasion.
The archway gets decked out with things like a Mardi Gras mask during carnival season or a giant tomato during the Creole Tomato Festival. Plus, after you're done taking photos, you can take a stroll through the market and shop.
Café Beignet
Café Beignet is famous for its green and white striped awning and tends to have a far shorter wait than Cafe Du Monde. Snag a pic under the awning with a few powdered sugar marks on your face or grab a table and have a friend snap a candid as you stuff your face with this delightfully messy dessert.
Armstrong Park
Best at sunrise or sunset, the Armstrong Park sign makes for a striking photo. A semicircle made up of light-up beams and a blazing "ARMSTRONG," the arch almost resembles the rays of the sun. With the lights against a hazy sky moving from morning to night and vice versa, a photo under the arch is sure to be a follower pleaser.
Moon Walk
No, we aren't talking about Michael Jackson. The New Orleans Moon Walk, named for Mayor Maurice "Moon" Landrieu, is a 3,500-foot walkway along the Mississippi River. As you walk the path, it provides a photo background of the river, the docks, Woldenberg Park, and, if you've timed it right, even Steamboat Natchez.
Andrew Jackson Hotel
Known as one of the most haunted hotels in New Orleans, a photoshoot at this French Quarter hotel might lead to some unexpected participants. Take a photo or two in the gallery overlooking the street. Or get the perfect shot next to the fountain in the courtyard in hopes of including a spooky guest or two.
As you can see, there's no shortage of Instagram-worthy photo ops in the French Quarter. After you've snapped the perfect shots, retire to your cozy French Quarter hotel for some rest and relaxation.