New Orleans: Haunted Legends and Mysteries - Muriel's Jackson Square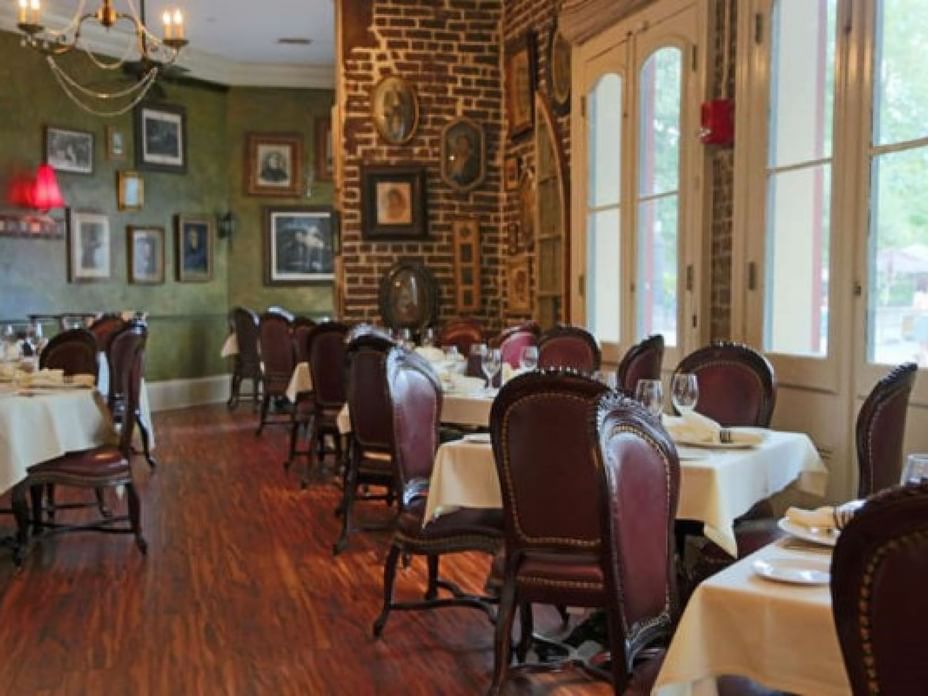 Although Halloween is the perfect time to hear some of these chilling tales, the spirits never rest. Therefore, when you visit the Big Easy, it's always possible to experience some supernatural surprises.
You might catch a glimpse of a lonely ghost wandering through the lobby of your hotel. Or perhaps, you'll hear a faint whisper as you enjoy a stroll through Jackson Square. You may even spy an apparition or two when you enjoy some of NOLA's classic cuisine in one of the many amazing restaurants throughout the city.
In fact, our third eerie tale in our Haunted Legends and Mysteries Series takes you to one of these very restaurants, reputed to be one of the Crescent City's most haunted places.
Muriel's Jackson Square
Located in the corner of Jackson Square, alongside the stunning Saint Louis Cathedral, Muriel's Restaurant serves classic Creole fare in an elegant, 19th-century building. However, the spot where it stands was first home to a small cottage built in the 1700s and believed to be used as a holding place for slaves and servants.
In the late 1700s it was torn down by Jean Baptiste Destrehan who built a grand home for his family. Over the years, the property had many owners, until the Great New Orleans Fire destroyed part of it on Good Friday in 1788. A man by the name of Pierre Antoine Lepardi Jourdan purchased the property and restored it to its original elegance and beauty.
Pierre adored his home, but in 1814 he lost his beloved residence in a poker game. Unable to part from his most prized possession, he committed suicide on the second floor, in what is now Muriel's Seance Lounges.
It is said that Pierre will never leave his treasured home. Guests have seen a sparkling light drifting through the seance room, as Pierre's spirit moves among the rooms of the building. Visitors have also witnessed objects being moved around the room; perhaps Pierre is still getting things just right.
While Pierre is Muriel's main ghostly resident, many visitors claim there are several restless spirits roaming through the various floors. One of which tends to get up to mischief in the Courtyard Bar, throwing glasses at the brick wall and shattering them to pieces. Others have seen dark shadows where there should be none, heard voices in an empty room, and other unexplained noises.
But, for all the ghostly happenings, there is no malice in this mischief. Muriel's staff and patrons feel no angst or ominous presence, enjoying the atmosphere and feeling rather cozy and at home. In fact, there is always a table ready with bread and wine, reserved for Pierre Jourdan himself.
If you want to experience fantastic NOLA cuisine and a chance for a ghostly encounter, pay a visit to Muriel's for your next meal. Request a seat in the Seance Room; it's where most of the supernatural activity seems to happen. Of course, this also makes it a hot commodity, so you might not be able to snag an open table unless you're willing to wait.
While you're eating, keep your eyes and ears open. Perhaps Pierre will join you for a glass of wine.