LGBTQ in NOLA: City of Acceptance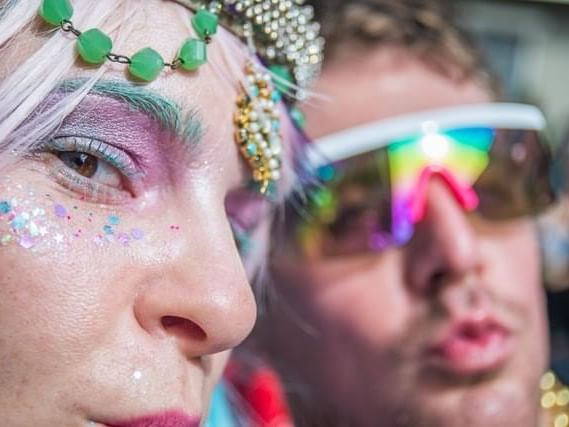 In a city as vibrant and diverse as New Orleans, it's no surprise that it has a rich and celebrated LGBTQ culture. The city has been a place of inspiration to famed gay artists like playwright Tennessee Williams and a retirement spot for photographer Frances Benjamin Johnston.
Gay Mardi Gras
For nearly a century, New Orleans has featured flourishing pride events. As early as 1949, many have celebrated a gay carnival tradition known as Fat Monday. Each Monday before Mardi Gras, Arnaud's hosts the Fat Monday Luncheon, a drunken and somewhat disorderly meal that honors the event's two Queens. After lunch, participants and a band second-line down the streets of the French Quarter to a local bar to continue the celebration.
The first gay carnival krewe formed in 1958. The Krewe of Yuga had a queen, usually a man in drag, reigning over its Mardi Gras balls until 1962, when the crew dissolved after a police raid. This krewe's ending couldn't keep others from following suit. The Krewe of Petronius held its first ball a week after Yuga was shut down and has been masquerading ever since. Then, in 1969, four friends established the Krewe of Armenius, and its mission to this day is to preserve the traditions of Gay Mardi Gras.
Gay Rights in NOLA
New Orleans was a pioneering city in the gay rights movement. Various gay rights organizations popped up in the 1970s. They were instrumental in making a pro-LGBTQ change in New Orleans, like the Gay Liberation Front of New Orleans, Daughters of Bilitis, and the Gertrude Stein Society.
In the 1990s, the New Orleans City Council passed a gay non-discrimination ordinance. Just a few years later, Louisiana passed a hate crimes law that included sexual orientation, making it the first state in the Deep South to do so. By 1998, New Orleans added gender identity to its list of those protected from discrimination.
As of June 26, 2015, the state legalized gay marriage due to the Supreme Court's ruling in Obergefell. With its vibrant atmosphere, incredible food and music, and overall accepting nature, New Orleans is an excellent destination for LGBTQ couples to tie the knot.
Pride Month in NOLA
Each summer, New Orleans has hosted its own pride parade in early June. You'd find tons of revelers parading down the French Quarter's streets in glitter, feathers, and pride flags as makeshift capes. Not only could you experience a pride parade during NOLA Pride, but you'd also likely stumble upon some burlesque shows, live music, and special events at restaurants and bars.
The organization that put on the annual pride festival dissolved in 2020 after COVID canceled the festivities. Although nothing has officially taken its place, New Orleans is unlikely to let Pride Month pass by without some celebration once the city lessens COVID restrictions. Whether there's an official parade or not, if you want to celebrate love, Pride Month is the perfect time to visit New Orleans.
Southern Decadence
Southern Decadence brings in even more guests each year than NOLA Pride. What began as a party of 50 or so friends dressing up as characters that exemplified southern decadence in 1972 has now become an event drawing nearly 200,000 to New Orleans every Labor Day weekend. The event's size makes it one of the top three tourism events the city experiences each year.
Decadence is a celebration of debauchery, pride, and bright colors, with participants often dressing in costumes that fit the typically risque theme. Past themes have included "Menage a Trois" and "Hurricane: This Year, They Blow Back." Such themes make Southern Decadence the perfect event for more mature visitors. Though Decadence gets more intense as the weekend closes in, it is technically a six-day long celebration that culminates in a large parade through the French Quarter the Sunday before Labor Day.
New Orleans is a city that loves to celebrate love. From its rich LGBTQ history and colorful celebrations to its beautiful venues and welcoming atmosphere, it is an ideal locale for LGBTQ couples to get married. NHG's properties offer the perfect spot for your special event, and our devoted and professional staff will ensure you have a wedding to remember. Whether you decide to get married during Decadence, Pride Month, or just a regular weekend, you'll experience all the love, acceptance, and revelry New Orleans has to offer.