Café Au Lait & Beignets: A New Orleans Treat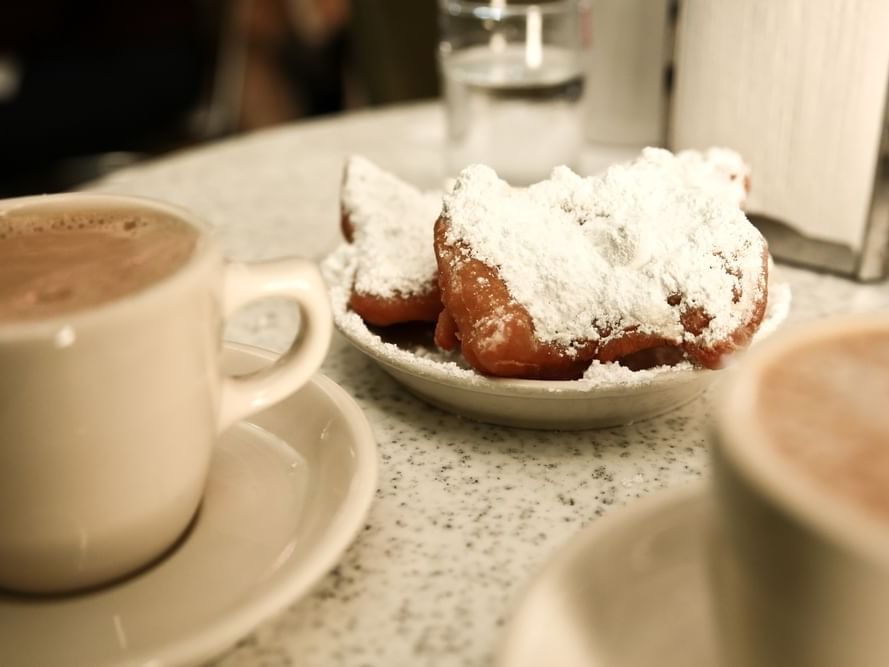 Beignets paired with café au lait (pronounced "o-LAY") is specific to New Orleans, and made a Nola staple at Café du Monde. Not really sure about what it's all about? Here's some background on the chicory in your coffee or why a beignet at 3 a.m. is the perfect sugary treat.
Beignets were brought to the U.S. by the Acadians, or early French settlers, in the 18th century. Beignet means "fritter" in French. Beignets were associated with Mardi Gras in France as early as the 16th century. When brought to New Orleans, locals would put their Louisiana touch on the beignets by filling the dough with fruit before frying them. Today, they're normally served under heaps of powdered sugar in orders of three.
So, why is café au lait or coffee with chicory so popular in New Orleans? It, too has its history that dates back to the 1800s. Café au lait is equal parts coffee and milk, served hot and goes best with beignets. Now, this chicory in coffee you keep hearing about: chicory is a plant similar to coffee, which has its origins in France. The French began putting chicory in their coffee as a way to stretch rations during Napoleon's Continental Blockade of 1808. Today, coffee in New Orleans usually has a touch of chicory for taste. Many say chicory gives coffee a more robust, smooth flavor.
The divine duo of café au lait and beignet was popularized at Café du Monde, a coffee stand in the New Orleans French Market that opened in 1862. Today, Café du Monde is a New Orleans institution. They're open 24 hours every day of the year except Christmas, doling out beignets under mounds of sugar and café au lait to locals and tourists. You can't visit Nola without making a stop at Café du Monde. For tips on how to do Café du Monde like a local, check out must-do's and don'ts here.
--
Ready to book with us? Check out or specials here.