The History of the French Quarter Easter Parade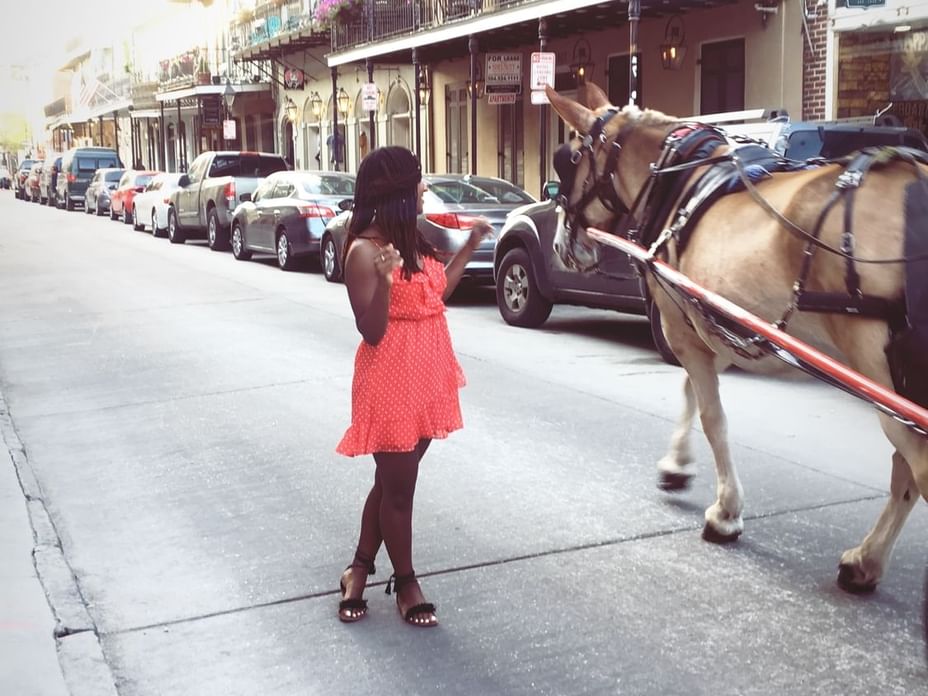 The Start of a New Orleans Easter Tradition
The most popular origin story of the Historic French Quarter Easter Parade dates back to 1956. Germaine Wells, the stepdaughter of Arnaud Cazenave (founder of Arnaud's Restaurant), founded the parade, which started at her stepfather's restaurant. It featured a fanciful procession of people dressed in their Sunday best, parading through the quarter toward St. Louis Cathedral.
Over the years, the parade became an Easter morning staple, eventually shifting its starting point to Antoine's Restaurant and getting a name change to the Historic French Quarter Easter Parade. Convertibles, mule-drawn carriages, and people in beautiful bonnets travel along the route, tossing plush Easter bunnies, beads, and other fun throws.
Is the Historic French Quarter Parade the Same as The Chris Owens French Quarter Parade?
The French Quarter Parade is not the same as the Historic French Quarter Parade. Chris Owens, a New Orleans icon, entertainer, entrepreneur, and business owner, served as the Grand Duchess of the parade annually until her passing in 2022. Therefore, you'll often see this celebration aptly named The Chris Owens French Quarter Parade.
The parade typically kicks off at the Omni Royal Orleans with a silent auction, live entertainment, and an impressive hat contest. The Chris Owens French Quarter Parade is one of the three main events in New Orleans on Easter Sunday.
The Gay Easter Parade
After the festivities of Easter morning, including the two morning parades, the fun doesn't stop there. The annual Gay Easter Parade has been rolling through the streets of NOLA since 2000, celebrating the LGBTQ+ community.
The parade focuses on being a family-friendly NOLA event for everyone to enjoy, showcasing adorned horse-drawn carriages and riders decked out in their Sunday finest. The route begins at the Armstrong Arch on St. Ann and winds its way through the French Quarter, showering onlookers with tons of throws. There is also an Easter bonnet contest at Good Friends Bar.

As Easter approaches, the New Orleans summertime heat hasn't arrived yet; you'll find abundant brunch specials, and of course, plenty of parades. So prepare for an Easter to remember (and pack some extra bags to take home your throws).