Experience July 4th the New Orleans Way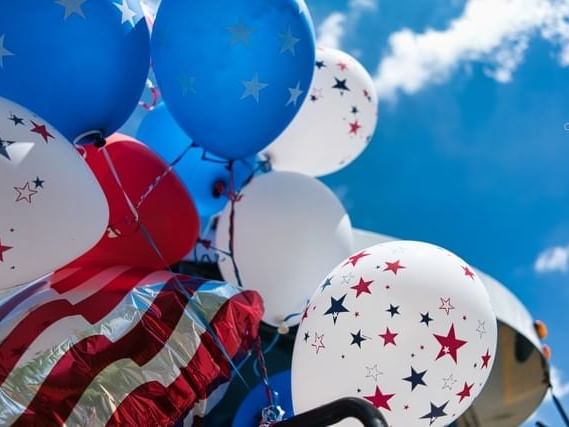 New Orleans has been operating at full capacity for over a month now, meaning that restaurants are open, live music once again fills the air, and all of the things that make this great city exciting are back and better than ever. The 4th of July is just around the corner, and the festivities lined up for that weekend are the perfect way to celebrate!
3rd of July Celebration
Just a streetcar ride away in Mid-City, this evening presented by the Oscar J. Tolmas Charitable Trust marks the event's grand return to City Park after a cancellation in 2020. This completely free event will take place on City Park's Goldring/Woldenberg Great Lawn at 7 p.m. the Saturday before the 4th of July, so be sure to bring a picnic blanket or lawn chair to enjoy an evening of fireworks, food trucks, and musical performances. Attendees are encouraged to wear their best red, white, and blue.
Reopening of Carousel Gardens
City Park's 3rd of July Celebration also coincides with the official reopening of the Carousel Gardens, City Park's amusement park, to the public after months of closure due to COVID. $25 gets you unlimited access to all the fun rides in the park, like the Ladybug Coaster and the Tilt-a-Whirl, as well as admission to Storyland, the section of the park filled with interactive sculptures that immerse you in the world of storybooks. Carousel Gardens is open from 11 a.m. to 6 p.m., so enjoy the park all day before heading over to the fireworks show that evening!
Creole Tomato Fest
Among the events taking place, July 3rd is the 35th annual Creole Tomato Festival, an annual fest through the French Market. Try a fresh creole tomato at one of the stalls in the French Market or enjoy a creole tomato-inspired dish at one of the fest's partner restaurants like a Creole Tomato Basil Crêpe at Crêpes à la Cart or Creole Tomato Shrimp Remoulade at Gris-Gris. If you're feeling boozy, try a creole tomato-inspired bloody mary at Brennan's or Napoleon House. Join the 2nd line at 11 a.m. or enjoy a little lagniappe, like a screening of a killer tomato film at the Broad Theater or a balcony concert at the New Orleans Jazz Museum.
NOLA Zydeco Fest
Still unsure of what to do on July 3rd? Is music more your scene than the park or tomatoes? Then check out the NOLA Zydeco Fest from 12 p.m. to 7 p.m. at the New Orleans Jazz Museum. This event is free to the public, though $65 will grant you access to the "La-La" VIP lounge, which includes complimentary beverages, shaded seating, your own entrance to the fest, and a chance to hang out with the bands. If you opt for free admission, you can still enjoy live music from bands Sean Ardoin, Lil Nathan and the Zydeco Big Timers, and Rusty Metoyer and The Zydeco Krush, fine Louisiana cuisine, and even dance lessons!
Riverboat Louis Armstrong 4th of July Celebration
What better way to celebrate the 4th of July in New Orleans than on the Mississippi River? From 7 p.m. to 10 p.m., guests will have access to a buffet of delicious American cuisine, live entertainment, and an open bar, all while dockside on the Mississippi. Be sure to venture into the different rooms of the Riverboat Louis Armstrong to find the vibe that best suits you, whether that be the room with jazz music, a DJ, or the soothing sounds of a piano. Tickets for this event are a little pricey at $129 but worth it for a unique evening on the River.
The Last Shot Day Party
For some more adult entertainment this 4th of July weekend, head to Razoo Bar and Patio on Bourbon for The Last Shot Day Party. This party commemorates the end of the Essence Music Festival and is advertised as a "family reunion like no other." From 11 a.m. to 8 p.m. on July 4th, guests 21 and older can enjoy live entertainment, DJs, a 3-for-1 drink special, and the bar's indoor-outdoor patio for only $5.
Visit WWII Museum
Although the WWII Museum isn't hosting a special 4th of July event, it doesn't get much more patriotic than visiting this museum on the 4th of July. Explore all the exhibits commemorating the plight of our American heroes in WWII for less than $30. While you explore, be sure to visit the Victory Belle's 2 p.m. show on Saturday or Sunday, but be sure to buy a ticket first! This singing trio will serenade you with songs from the 1940s, transporting you to a WWII-era USO show.
As you can see, NOLA is open and ready for fun, friends, and festivities. Want to spend even more time enjoying everything the Big Easy has to offer? Then, make sure to book some posh accommodations at one of our downtown or French Quarter hotels. You'll get all the charm of New Orleans, along with modern amenities and all of the comforts of home.