New Orleans Christmas: Caroling in Jackson Square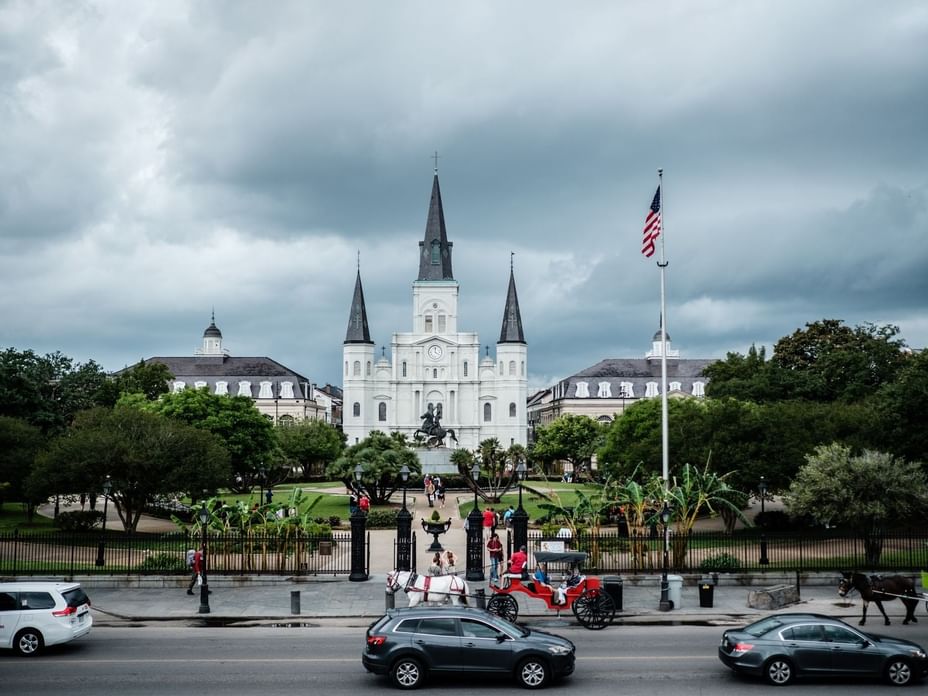 For years, New Orleans has fostered numerous Christmas traditions that help awaken and celebrate the magic of the season. One of these much-loved customs is the popular Caroling in Jackson Square, presented by the Patio Planters of the Vieux Carré. The event began over 70 years ago in 1946, and it was an instant success. This year, even amidst the pandemic, the organization is finding a way for the beloved caroling in the square to take place on December 20th.
Who Are the Patio Planters?
The Patio Planters of the Vieux Carré (the French Quarter) is a volunteer organization dedicated to preserving the historic French Quarter. The New Orleans-based group consists of members devoted to the beautification of the quarter, making annual contributions to an assortment of courtyards and gardens.
The group holds several free events throughout the year, with the help of public support and annual fund-raising endeavors. Other fun holiday events sponsored by Patio Planters are the White Elephant Sale & Auction (unfortunately canceled this year due to Covid-19) and the annual Holiday Home Tour. The home tour also takes place on December 20th, and it serves as a fundraiser and prelude to the Caroling in the Square event.
If you want to become a member of Patio Planters, you must either live in the French Quarter or own property in the Vieux Carré. However, you can also join as a friend of the Patio Planters and become a non-voting member.
Caroling in Jackson Square
Since 1946, the Patio Planters has sponsored Caroling in Jackson Square on the Sunday before Christmas. The candlelight singalong has been loved by people of all generations for decades and is always free and open to the public. Everyone in attendance receives a candle and a song sheet so they can participate in the magic.
This year the event is scheduled for Sunday, December 20th, from 7 to 8 pm, although the organization is still ironing out details of how to proceed during Covid-19 (make sure to bring your mask!). You can check out all the latest updates here. It is highly recommended to arrive early. The gates to Jackson Square will open at 6:30 pm, and caroling starts at 7 pm.
Whether you're a professional crooner, can't carry a tune, or a superstar shower singer, everyone is welcome to join in the festivities and sing carols by candlelight. Why not make the night even more memorable with an overnight stay downtown? After enjoying the festivities, you can grab some hot chocolate and curl up in your warm and cozy room at the Andrew Jackson hotel. It's the perfect way to cap off your night of caroling in the square!