Mardi Gras Fun In The French Quarter 2022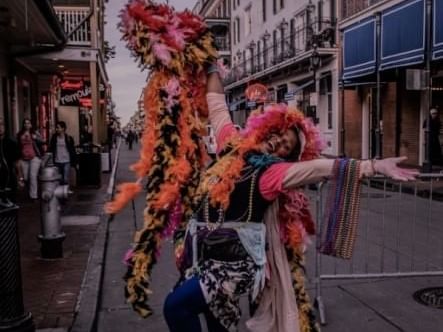 A French Quarter Mardi Gras
During Carnival time, you'll have multiple opportunities to attend parades throughout the city. Floats roll along St. Charles Avenue uptown and travel through Metairie (just a stone's throw from the city). You'll even find many parades in nearby towns like Kenner, Slidell, and Covington.
But, when you think of New Orleans, the first place that likely comes to mind is the French Quarter. And if you're staying here, you can't miss some of the fantastic Mardi Gras krewes that parade through the quarter. These krewes feature various themes through a spectacle of lights, music, costumes, and other unique forms of entertainment.
The French Quarter Mardi Gras festivities typically kick off on Twelfth Night, January 6th, with the Krewe of Joan of Arc. This parade mixes medieval themes with New Orleans Mardi Gras traditions, honoring the city's unofficial patron saint.
The same night you can also see the Société Des Champs Elysée (The Not So Secret Society of the Elysian Fields). The latter usually rides along on the St. Claude Avenue Streetcar, passing the Phunny Phorty Phellows, who ride on the St. Charles Streetcar. This year though, they stayed on foot.
Following the Carnival kick-off, there aren't any parades in the Quarter for a few weeks, but they start up again in full force on February 11, 2022. Here's a breakdown of how you can have some Mardi Gras fun in the French Quarter this year.
Krewe Bohème (February 11, 2022)
This krewe, led by a green absinthe fairy, kicks off at 7 pm, followed by more than 15 inner krewe marching clubs. The group presents a visual and auditory celebration full of intrigue and creativity. It starts on Franklin Avenue, near Dauphine Street, and ends at the Joy Theater for the after-party.
This raucous krewe is known for its political innuendos, wild satire, and decidedly adult themes. It also features some of the best jazz bands in the city. The parade starts and ends at the corner of Royal and Press St., beginning at 6:30 pm.
Krewedelusion (February 12, 2022)
This relatively new krewe showcases satirical themes that they keep a guarded secret until parade day. Many different inner krewes make up the group, which follows immediately after Krew du Vieux. The parade starts at Franklin Avenue and Royal St. and ends at D.B.A on Frenchmen for its Bedlam Ball.
Krewe of Cork (February 18, 2022)
If you like wine, then you'll go crazy for this wine-themed marching parade, which takes place 11 days before Mardi Gras. This afternoon parade begins at 3 pm, starting on Royal St. between St. Peter and Toulouse. The krewe winds through the French Quarter, ending on Conti St. between Royal and Bourbon.
Are you a dog lover? Well, then you can't miss this paw-fectly fabulous parade, especially if Fido is tagging along on your trip. This krewe has gone to the dogs, with precious pups in costume taking center stage as their humans escort them along the route. The Mystic Krewe of Barkus starts at 2 pm at N. Rampart and St. Ann and ends at Orleans and N. Rampart.
Krewe of Bosom Buddies (February 25, 2022)
This krewe started in 2013, made up of women and the men who stand by them, who want to relax and have fun. The parade begins at 11:30 am at St. Louis and Bourbon and ends at Bourbon and Conti. If you're lucky, you'll snag one of the krewes coveted throws -- hand-decorated bras.
Other Ways To Celebrate Mardi Gras In The French Quarter
Of course, the French Quarter parades are just one of many ways to celebrate Mardi Gras in the Quarter. You can also shop for some classic Carnival finds at the French Market, grab a slice of mouthwatering King Cake, or check out one of NOLA's fabulous restaurants.
For a complete schedule of Carnival events, parade routes, and more, check out Mardi Gras New Orleans. Make sure to pack comfortable shoes and wear your brightest purple, green, and gold! To make sure you have the ultimate in comfort and convenience during your stay, book a room at the Andrew Jackson hotel to stay in the middle of the action.