Kicking Off Carnival in the French Quarter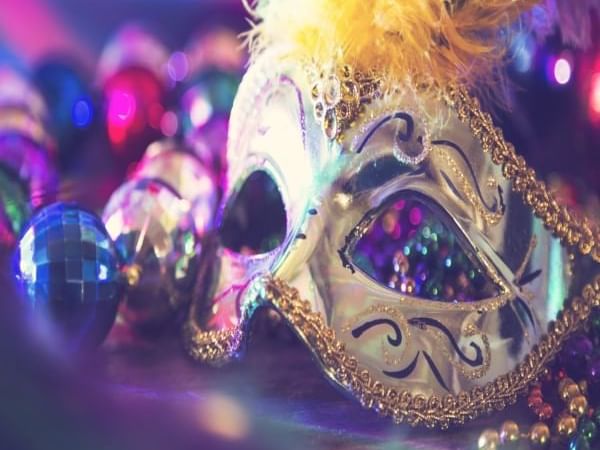 To celebrate the start of carnival in the French Quarter, second line along with the Phunny Phorty Phellows as they take their annual streetcar ride. Or attend the Krewe of Jeanne d'Arc on January 6th. You can also find a Twelfth Night party or masquerade ball, and of course, chow down on lots of King Cake.
When Does Carnival Start in New Orleans?
You might not have realized that Mardi Gras is actually based on Christian tradition. Fat Tuesday is the last day before Ash Wednesday and the start of Lent. But Mardi Gras is only one day in a long and vibrant carnival season.
The carnival season begins every year on the Epiphany or January 6th. It's one of the biggest festivals in the Christian Church, in addition to Easter and Christmas. Many also refer to this day as the 12th Day of Christmas and King's Day.
It commemorates the day that a special star led the three wise men (or three kings) to the location of baby Jesus. But no matter what your beliefs, one thing is for sure, carnival season is one big party in New Orleans.
How Can I Celebrate Carnival on January 6th?
If you are in New Orleans on January 6th, you'll have ample opportunities to celebrate the kick-off of the carnival season.
1. Attend the Joan of Arc Parade
The Krewe de Jeanne d'Arc parades every year on January 6th to honor St. Joan of Arc's birthday and the city's rich French culture. The medieval-inspired walking parade begins at 7 pm at Bienville and N. Front. It ends at approximately 8:30 pm at Oscar Dunn Park, near Café du Monde on Decatur.
2. Eat Lots of King Cake
Carnival kicks off on King's Day, which means it's time for lots of King Cake. This sweet New Orleans tradition comes in many flavors and styles. You can find one at pretty much every grocery store, bakery, and The King Cake Hub.
This crew starts things off with their iconic streetcar ride through the city. Follow along with a second line, cheer, drink, and make merry with fellow revelers. The fun starts at the Willow Streetcar Barn with a Carnival Countdown; riders board the streetcar and begin the journey down to St. Charles Avenue.
4. Find a Twelfth Night Ball
Twelfth Night is the last day of Christmas (or the 12th day of Christmas). It marks the end of Christmas and the beginning of the Carnival season. Many groups celebrate by holding parties, masquerade balls, and other events. A good chunk of the balls are private affairs, but you could be the lucky guest of someone in attendance.
No matter how you plan to celebrate carnival in NOLA, Stay at the Andrew Jackson Hotel to experience warm hospitality and charm.