New Orleans Christmas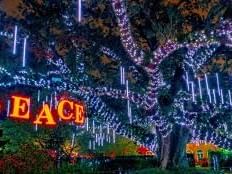 'Tis the season for Christmas lights all aglow, singing carols, and if you're lucky, catching a glimpse of Mr. Christmas himself, Santa Claus. But, this year, it's also the season for sanitizing, social distancing and wearing masks to help stop the spread of Covid-19. When you're celebrating Christmas during a pandemic, it can be tricky to know where to go and what to do.
Before you head out to spread some holiday cheer (and nothing else), check out a few of your options for New Orleans Christmas activities during Covid:
This season, you might be trading in your ugly Christmas sweater for a face mask, but there are still lots of ways to enjoy this special time. Of course, at Christmas time, a drive down Canal Street or Esplanade Avenue will treat you to some stunning residences decked out for the holidays and sure to dazzle and delight. You can also see some impressive favorites, albeit they are doing things a bit differently.
This famous light display is one of the most dazzling in the country, featuring over a million lights and incredible displays of the holiday season. For 35 years, Celebration in the Oaks has brought smiles of delight to visitors of all ages, with the proceeds going toward the maintenance and beautification of City Park. This year, visitors can still enjoy these fantastic displays, but on a 2.25-mile driving tour through the park.
You also need to make a reservation to secure a vehicle pass. There are add-on options available that allow guests to park and enjoy some holiday festivities in Carousel Gardens, including a train ride, hot chocolate, photo opportunities, and yummy s'mores. For more information and to book your reservation, visit the website.
If you want to enjoy some nibbles or a full-course meal along with your Christmas displays, then you have plenty of opportunities to do so! From cruises to cookies and dinners galore, you're sure to find just the thing to satisfy your Christmas appetite.
Enjoy a delicious brunch aboard the new, stunning City of New Orleans riverboat and get a visit from Santa Claus! This special cruise is available at 11:30 am on December 6th, 13th, and 20th. The vessel also offers an option to enjoy the cruise without brunch. You can book your reservations by visiting the website. The City of New Orleans riverboat will also offer a special Christmas Eve Celebration on December 24th.
This Christmas event features entertainment from the talented Victory Belles, tasty Christmas cookies, a special gift for each child, and a socially-distant visit with Santa. The event has seatings on December 5th, 6th, 12th, 13th, 19th, and 20th. There are special restrictions in place for Covid-19, so make sure to read through them carefully before booking your reservation.
Enjoy a fabulous brunch buffet and a visit from Santa at the fabulous New Orleans restaurant, The Court of Two Sisters. Seatings are available on December 5th, 12th, 19th, and 23rd, but spaces are filling up fast, so don't wait to make your reservation! Every child in attendance will receive a special gift.
Christmas Eve Bonfire Adventure Tour
Hop onboard Gray Line's round-trip motor coach tour and enjoy a journey along River Road to witness the classic lighting of the bonfires along the banks of the Mississippi River. For years, these massive bonfires have served to light the way for Papa Noel (the Cajun Santa Claus) as he makes his way to bayou country. The adventure includes a guided tour of the San Francisco plantation, eggnog, and a Christmas-inspired dinner featuring bread pudding, fried turkey, cornbread dressing, and more.
Réveillon Dinners
Many of the city's best restaurants celebrate this time-honored Creole tradition of welcoming in the holiday season with a delicious four-course meal. Originally, a Réveillon (derived from a French word meaning awakening) dinner was a meal served after midnight mass on Christmas eve. The tradition began in the 19th century with the French colonists and continues today at such iconic restaurants as Antoine's, Bourbon House, and Galatoire's.
The dinners are typically offered from December 1st - 24th, but it's recommended to contact the individual restaurant for their own particular times, menu, and Covid guidelines. Some other restaurants serving Réveillon dinners are Boucherie, Broussard's, Commander's Palace, Tableau, Restaurant R'evolution, Muriel's, and many more. To see if a particular restaurant features this special holiday meal, simply check out the establishment's website or call to see if it has a special Réveillon menu.
It's beginning to look a lot like Christmas in New Orleans, just perhaps a bit differently than in past years. But, even amidst a pandemic, the spirit of the season endures. As long as you take the right precautions, you can welcome the holiday season safely and celebrate Christmas NOLA-style.