New Orleans Thanksgiving: A Side of Jambalaya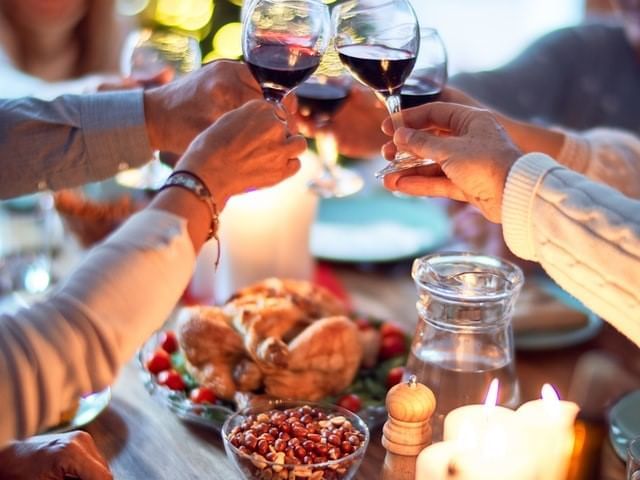 On Thanksgiving Day, New Orleans locals enjoy many of the traditional Thanksgiving favorites, like turkey, stuffing, and cranberry sauce. However, it's also not uncommon to find a few Big Easy favorites among the side dishes.
Whether it's a starter of oyster soup, a hearty helping of gumbo, or a heaping spoonful of our featured New Orleans favorite, jambalaya, you're sure to have more than enough to eat when you celebrate Thanksgiving NOLA style.
A Brief History of Jambalaya
This classic rice dish got its start in south Louisiana during the 18th century. Spanish colonists in the region wanted to make their own traditional favorite, paella, but there was one problem. One of paella's main ingredients, saffron, wasn't available in south Louisiana during this time. Therefore, the colonists improvised and began trying to recreate their favorite dish with local ingredients. What they ended up with was jambalaya.
While there are numerous variations of jambalaya, it always includes rice, vegetable seasonings, and some form of protein, whether it's chicken, shrimp, or the most popular, pork sausage. The go-to seasoning blend in every jambalaya is what locals refer to as the "Holy Trinity," a Creole blend of diced onion, bell pepper, and celery.
In New Orleans, there was also a lot of access to tomatoes, so they often ended up in the jambalaya. Because of this, you'll find two main kinds of jambalaya throughout south Louisiana, red and brown. You're more likely to get Creole jambalaya (red) in the city and brown jambalaya in Cajun country and the more rural areas of southern Louisiana.
Make Your Own Jambalaya
Want to try your hand at making a special jambalaya for your family's pot-luck Thanksgiving? Here's a recipe adapted from Zatarain's® that will just take you about 10 minutes of prep time and 40 minutes of cook time:
One tablespoon olive oil

1/2 cup diced red bell pepper

1/2 cup diced onion

1/4 cup diced celery

1/2 pound raw shrimp, peeled and deveined

One package (8 ounces) Zatarain's® Jambalaya Rice Mix

2-1/2 cups water

1/2 pound (about 1-1/2 cups) cooked, diced turkey

Chopped fresh parsley, optional
In a large saucepan, heat one tablespoon of olive oil over medium-high heat. Add diced bell pepper, celery, onion, and shrimp to the pan. Sauté for about five minutes, until the shrimp just start to turn pink.
Use a slotted spoon to remove the shrimp and vegetables from the pan, and set them aside. Next, add the water and rice mix to the pot, and bring to a boil. Once boiling, reduce the heat to low and cover the pot.
Let the rice simmer for 25 minutes (until the rice is tender). During the final five minutes of cooking time, add in the turkey, shrimp, and vegetables. After five minutes, remove from heat and let stand covered for about five minutes. Fluff with a fork, garnish with parsley and serve. Serves five.
Best French Quarter Restaurants for Jambalaya
If you prefer to let someone else do the cooking, head to one of these restaurants for some of the best jambalaya in the French quarter.
Napoleon House -- This 200-year-old landmark on Chartres St. was once offered as a place to stay for Napoleon during his exile, although the emperor never made it. However, the name has become synonymous with amazing food and incredible service in what is truly an authentic New Orleans atmosphere. Walk-ins are welcome!
Olde Nola Cookery -- Located on Bourbon Street, this cheerful eatery features Cajun and Creole favorites in a vibrant atmosphere. It's open for dine-in, delivery, or take-out. You will need reservations for parties of 10 or more people.
No matter what you decide to serve up this Thanksgiving, one thing is for sure, you won't be able to put down your fork because it all tastes so good! Here's wishing you a very Happy Thanksgiving, from the heart of New Orleans!