Must-See Upcoming Museum Exhibits in New Orleans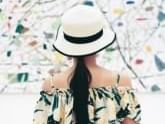 When you visit New Orleans, take some time to see some of the upcoming museum exhibits and art installations throughout the city.
The New Orleans Museum of Art (NOMA) stands in the sprawling 1,300 acres of City Park, one of the largest urban parks in the country. It houses a vast collection of paintings, sculptures, photographs, and eclectic artifacts, as well as hosts multiple special exhibits throughout the year.
This summer, you can experience the wonders of Queen Nefertari and other women leaders in ancient Egypt. The exhibit highlights jewelry, stone sarcophagi, papyrus, wooden coffins, statues, and other items. It also showcases the daily life of artisans from Deir-el-Medina, which was home to the creators of the royal tombs.
The exhibit runs through July 17th and offers a selection of entry times. Note: General admission museum tickets do not include access to the Queen Nefertari Exhibit. You need special admission tickets that grant you access to the exhibit and the rest of the museum. You can purchase tickets at the door, or for a more convenient experience, order your tickets online here.
See the works of Vincent Van Gogh like you never have before while getting a more up-close-and-personal look at the artist. This immersive experience has been running in various cities since 2017 and has found its home in New Orleans summer of 2022.
The exhibit features a 20,000-square-foot showcase of lights and sound highlighting Van Gogh's most inspiring and moving works. Two-story projections and a 360-degree setup make you feel like you've stepped inside a painting.
The experience is suitable for all ages and takes place at the Scottish Rite Temple on Carondelet. Plan to spend about 60 to 75 minutes exploring the exhibit. Tickets are $32.20 for adults and $19.10 for children.
From June 11 through September 18th, the Ogden Museum of Southern Art invites you to celebrate summer through its collection of stunning photographs. The images reflect summertime in the American South and hope to offer viewers a relaxing break from the turmoil and challenges of the past few years.
The New Orleans Jazz Museum shines a spotlight on one of NOLA's most popular living artists, James Michalopoulos. Visitors can see a collection of the artist's work celebrating street musicians and more and the original Jazz Fest poster featuring Louis Armstrong.
Also on display are instruments and other items to showcase the vital connection between music and the visual arts. The exhibit will be open to the public through Labor Day 2022.
Now it's time to pack your bags and head to New Orleans to soak up the culture and enjoy the atmosphere. Plan ahead to have plenty of time to take in everything these exhibits offer. At night, relax and unwind in a top-notch French Quarter hotel with all the modern amenities alongside authentic NOLA charm.