How Long Is Mardi Gras In New Orleans?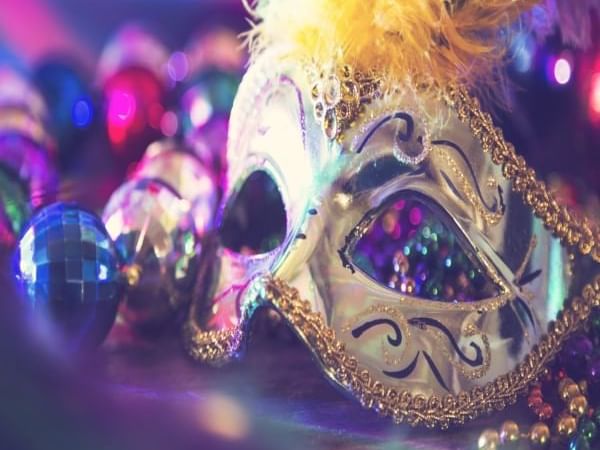 Is Mardi Gras Only One Day?
Technically, yes, Mardi Gras is only one day, and in 2022, that day is Tuesday, March 1st. However, many people use Mardi Gras to describe the entire Carnival season. It lasts from King's Day on January 6th until the day before the Catholic Lenten season starts on Ash Wednesday.
Yep, if you didn't know, Mardi Gras, with its raucous and randy celebrations, has roots in the Catholic tradition. The general concept is that Fat Tuesday (Mardi Gras Day) is the final day for fun, feasting, and frolicking before starting Lent, a time traditionally for sacrifices and fasting.
Why Is Mardi Gras On A Different Day Every Year?
If Mardi Gras always starts on January 6th, why is it on a different day every year? Well, it's because Fat Tuesday ties into Easter Sunday, which can be anywhere between March 23 and April 25th. Mardi Gras day is always 47 days before Easter.
Since Mardi Gras Day varies year-to-year but always starts on January 6th, some years Carnival season lasts longer than others. For example, next year, in 2023, Mardi Gras will fall on February 21st, shortening Carnival by a whole week.
When Is Carnival Season 2022 in New Orleans?
Here's a glance at 2022's Carnival season to help you plan your Mardi Gras adventure.
January 6th, 2022 -- King's Day (The Epiphany) and the official start of Carnival in New Orleans. King's Day honors the day the three wise men reached the stable where Jesus was born. Locals and visitors alike can't wait to chow down on King Cake, which pretty much becomes a breakfast staple for the next couple of months.
Various walking krewes, parades, and other events start according to the Mardi Gras parade schedule. You might also hear a lot of people refer to this day as Twelfth Night, referring to the final day of the Christmas season. (Think of the ever-popular song -- The 12 Days of Christmas.)
February 28th, 2022 -- Lundi Gras, the Monday before Mardi Gras Day. Fat Monday recognizes the King of Carnival, Rex, and the King of Zulu, typically arriving by boat in Woldenberg Park. It usually includes the mayor of New Orleans, symbolically turning over control to the two Carnival monarchs.
Rolling in uptown are the Krewe of Proteus and super Krewe, Orpheus. Lundi Gras night, Bourbon street is typically full of revelers determined to stay up until the parades start Mardi Gras morning.
March 1st, 2022 -- Fat Tuesday, Mardi Gras Day. The big day arrives, featuring the Krewe of Zulu and the Krewe of Rex parading uptown. By Tuesday night, the Big Easy becomes relatively quiet compared to the months before. So, Mardi Gras Day is also the official end of the Carnival season in New Orleans.
March 2nd, 2022 -- Ash Wednesday, the start of Lent. Catholics start preparing for Easter with a time of prayer, fasting, sacrifice, and reflection. There is a definite contrast from all of the festivities and celebrations throughout the prior months.
Do You Only Have A Weekend To Spend In New Orleans?
If you can't take off during the week to catch Mardi Gras Day on March 1st, consider planning a weekend trip. You can still get a taste of what Carnival is all about in NOLA.
The weekend before Mardi Gras is one of the best of the whole Carnival season. It's full of major parades from super krewes like Endymion and Bacchus, along with other notable contenders like Tucks, Iris, and Thoth. You can even get a glimpse of actor Josh Duhamel, the celebrity king of Bacchus 2022.
But, plan for a late night since the revelry lasts well into the wee hours of the morning. If you can't swing the weekend before Fat Tuesday, you'll find parades and other events happening every other weekend during Carnival. You can even have your pup participate in the fun at the Krewe of Barkus on February 20th.
Is all this starting to sound like a foreign language? Don't worry. Check out our guide to Mardi Gras lingo to get the low-down on how to speak Mardi Gras in New Orleans. You'll be talking like a NOLA native in no time.
When you're not out in the thick of it, you can grab a cocktail and enjoy the rest of what this incredible city has to offer. Then, bring some king cake back to your cozy hotel room to enjoy as a late-night snack.