Guide to New Orleans' Frenchmen Street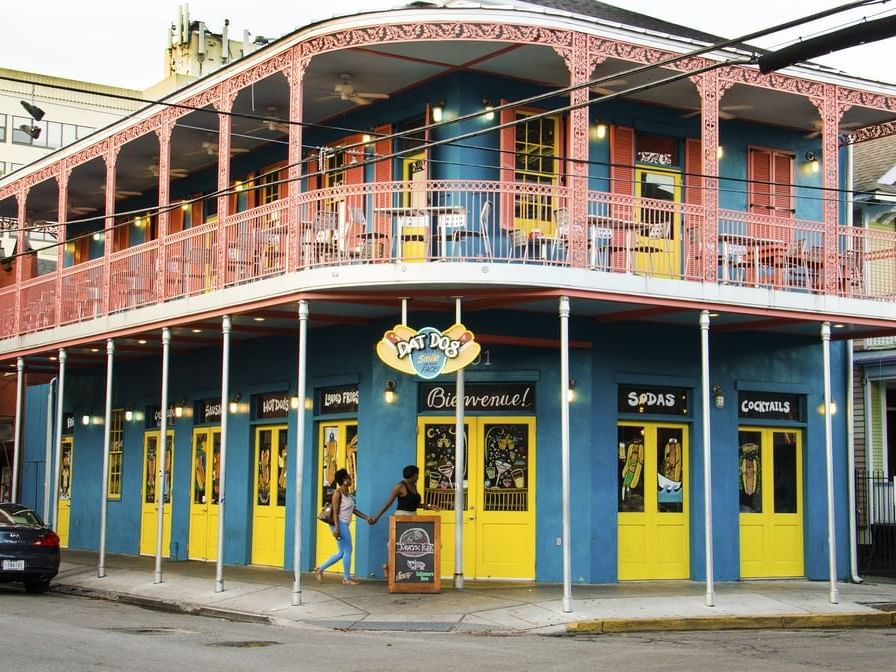 Bourbon Street isn't the only major street for nightlife in New Orleans -- Frenchmen Street located just outside the Quarter in the Faubourg Marigny neighborhood is a great option for visitors looking for live music, restaurants and an eclectic mix of street performers.
Looking for a more relaxed Bourbon Street? Frenchmen Street may be your best bet.
GET THERE
Frenchmen Street is less than a mile from Andrew Jackson Hotel. On foot, head south on St. Philip Street and take a left on Decatur Street. After the Esplanade, Decatur will dead-end into Frenchmen Street. Head north on Frenchmen Street for all the action -- the next few blocks are jam-packed with things to do. Cabs and rideshares are also available.
EAT
Frenchmen Street has some of our favorite places to eat, quintessentially New Orleans: For plain-and-simple, down-home Cajun-Creole style cooking, grab a seat at The Praline Connection, 542 Frenchmen Street. Aside from large platters, they also have the best peach cobbler and bread pudding in town. Dat Dog at 601 Frenchmen is a local favorite, serving up elaborate sausage plates. Try their crawfish sausage for a taste of Louisiana. If you're looking for live music and cocktails to go with your meal, Three Muses at 536 Frenchmen Street offers global fare with live jazz. Make reservations in advance!
[Eat like a Local in the French Quarter]
VISIT THE NIGHTLY ARTIST MARKET
Located on Frenchmen Street between Chartres and Royal streets, the artist market is open nightly from 7-midnight or 1 am, closed Tuesdays and Wednesdays. The market features handmade goods, jewelry, and crafts by local artists. Its low-key, open-air atmosphere is lit with stringed lights and lined with booths. This is a nice addition to your evening on Frenchmen Street.
LIVE MUSIC CLUBS
One of the greatest parts of Frenchmen Street is how the music finds you, even if you aren't in a club. Brass bands and musicians play impromptu shows in the streets, and if you're looking for a jazz bar atmosphere, look no further! For nightly jazz, check out the The Spotted Cat at 623 Frenchmen Street. The Spotted Cat is open from 2 pm to 2 am daily, with musicians thatnever disappoint. Get there early -- it's a tight space and tends to fill up quickly. CASH ONLY! Snug Harbor Bistro at 626 Frenchmen is a cozy spot for live music, tucked into an old building with Creole fare and nightly jazz and blues. If you're looking for a higher-energy place, The Maison at 508 Frenchmen has and eclectic mix of live music every day starting at 4 am. Check out The Maison's upcoming show calendar.
--
Booking your stay in The Big Easy? Check out the historical Andrew Jackson Hotel, located in the heart of the French Quarter