The Sweet Side of New Orleans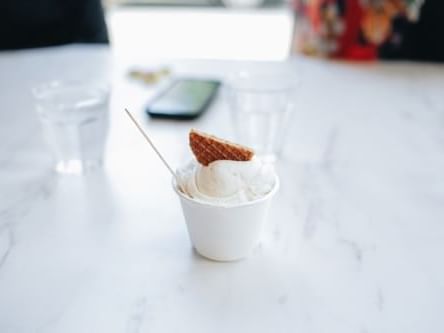 It's no secret that one of New Orleans's biggest draws is the food. The Big Easy serves up an eclectic assortment of dishes with festive flair from seafood to Cajun-Creole cuisine and globally-inspired top-chef creations to downhome southern cooking. Not to be left out of this foodie frenzy are the sweets and treats that make even the harshest food critics melt with satisfaction.
Some of NOLA's classic desserts include things like bananas foster, bread pudding, and of course, the ever-popular beignets. Then, there are the pralines, Doberge cakes, and other tasty sweet bites that fill the counter of every downtown bakery and candy shop. But, like anything, some folks have created some downright incredible versions of these sinfully good desserts. Here's a look at where you can get some of the best sweet treats in NOLA!
Bananas Foster
This decadent dessert features bananas smothered in a rich sauce consisting of butter, brown sugar, banana liqueur, cinnamon, and dark rum. Often prepared table-side at many restaurants, the preparation involves a dramatic flambé spectacle that briefly sets your soon-to-be dessert on fire. After the light show, the bananas and sauce are served over vanilla ice cream, creating the perfect sweet mix of warm and cold.
For some of the best bananas foster in NOLA, check out Brennan's on Royal Street or try some bananas foster french toast at The Ruby Slipper on Decatur or Stanley on Saint Ann St.
Bread Pudding
Bread pudding is a popular treat that you can find on pretty much most New Orleans dessert menus. Bread pudding tends to elicit a feeling of downhome comfort, with its creamy, warm texture, all starting with bread soaked in a mixture of milk and eggs, then mixed with spices like cinnamon and nutmeg and topped with caramel or other sauces. But it can also become a gourmet masterpiece when it's combined with rich flavors, many of which include whiskey or rum.
The renowned Commander's Palace on Washington Avenue features some fantastic bread pudding. Some other excellent options are Muriel's Jackson Square on Chartres Street and Mother's Restaurant on Poydras (be prepared for a line)!
Doberge Cake
This New Orleans-born traditional favorite features 7 layers of cake separated by 6 layers of creamy pudding, all covered with to-die-for icing. It's adapted from a Hungarian dessert known as Dobos Torte, and you can find it in pretty much any NOLA bakery. Always available in the classic flavors of lemon and chocolate, savvy bakers and gourmets have created a delightful array of other flavors to tempt every taste bud, including raspberry, strawberry, and even some with a bit of a boozy kick.
Some of the best Doberge around is at the Bakery Bar on Annunciation Street, where you can enjoy a slice made by Debbie Does Doberge along with a cocktail or two.
Pralines
A true southern tradition with French roots dating back to the mid-1700s, pralines originally featured almonds. However, when the dessert made its way to the southern US, almond trees were hard to come by. Hence, the popular pecan praline was born. Made with sugar, butter, cream, and of course, pecans, this candy treat is sure to satisfy the strongest sweet tooth.
Pick up some of the best pralines in town at Aunt Sally's Praline Shop or Southern Candymakers on Decatur or Laura's Candies on Chartres. Or stop by Loretta's Pralines in the French Market, where you can try two famous New Orleans treats in one when you order the praline beignets!
Beignets
Speaking of beignets, an article about NOLA's most famous sweets wouldn't be complete without mentioning them. One of the most popular, best-loved places to go for these tasty square donuts covered in powdered sugar is Café du Monde. The original location, located in the historic French Market, has been around since 1862, serving hot, fresh donuts and delicious café au lait to eager patrons. Other places to snag some of the best beignets are Cafe Beignet on Royal Street or New Orleans Coffee & Beignet Company on St. Charles Avenue.
Now that you know some of the top places to go for these mouthwatering desserts, you just need to decide which one you'll try first! Looking for the perfect place to stay while you're enjoying everything the Big Easy has to offer? Check out these unique, comfortable accommodations that let you fully experience the city, especially the one-of-a-kind French Quarter. And don't forget...save room for dessert!