How to Speak Mardi Gras in New Orleans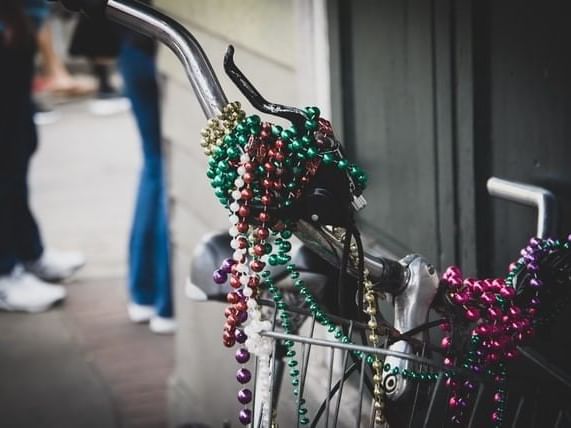 If you were born and raised in NOLA, then you likely speak fluent Mardi Gras. But if not, here's a handy guide to some of the most popular words and phrases you'll hear throughout the carnival season!
Ball
During the carnival season, Krewes host elaborate parties to introduce the royal court. These balls typically take place the same evening as the organization's parade and include music, dancing, food, and fun.
Bacchus
Bacchus is one of several super krewes, named for the Greek God of wine and featuring a huge, decked-out parade that rolls the Sunday before Mardi Gras. It usually showcases a selection of coveted throws and celebrity riders.
Boeuf Gras
French for fat ox, this term ties into the Christian traditions of Mardi Gras. When Carnival ends, Lent begins, and typically people abstain from eating meat. The fattened ox represents the last meat eaten before this period starts. The Krewe of Rex honors this celebrated tradition by including a Boeuf Gras float in its parade every year, complete with a paper-maché ox.
Captain
Each Krewe has a captain, a person who volunteers to lead the organization in planning parades, balls, and other events.
Carnival
The Carnival season starts on January 6th with the Epiphany (also called Twelfth Night) and ends Mardi Gras Day. It's a time for celebrating, feasting, and revelry before the solemnity of Lent.
Den
Krewes build and decorate their parade floats in large warehouses called dens. One of the most popular dens is the warehouse at Blaine Kern's Mardi Gras World.
Doubloons
Doubloons are highly-coveted parade throws. Many people collect these large, colorful coins as keepsakes. They typically feature the krewe's emblem and the parade's theme on either side.
Endymion
Another Super Krewe featuring an extravagant ball, a major celebrity as the Grand Marshal, and absolutely stunning floats.
Epiphany
This Christian feast day recognizes the night when the Three Wise Men visited the Baby Jesus and is also called King's Day. It's celebrated on January 6th and kicks off the carnival season.
Flambeaux
The tradition of flambeaux (French for flame) carriers began long ago when there was no electricity to light the parade routes. Flambeaux carriers were typically slaves or free men of color that would carry large torches to light the way and provide warmth.
Go-Cup
Not necessarily just a Mardi Gras thing, but still classic New Orleans; go-cups are paper or plastic cups you can use to carry your alcoholic beverage around with you. NOLA allows alcohol consumption in the streets, so you don't have to abandon your drink when you leave an establishment; just ask for a go-cup.
King Cake
A delicious oval-shaped, usually cinnamon treat, synonymous with Mardi Gras and Carnival, king cakes typically pop up starting on King's Day. Inside each cake is a plastic baby, meant to represent the Baby Jesus in commemoration of the Epiphany.
Krewe
The name of a carnival organization. Krewes usually host balls, parades, and other events and do various charity work throughout the year.
Ladder
Yes, you likely know what a ladder is, but you might not understand why you hear so many people talking about them around Mardi Gras. Many people with kids will use ladders with special seats attached to the top so that their young children can get a great vantage point for the parades.
Laissez les Bon Temps Rouler
A Cajun-French saying meaning "let the good times roll" and frequently used throughout the year in NOLA.
Lundi Gras
Lundi Gras is the Monday before Mardi Gras and is French for Fat Monday.
Mardi Gras
Mardi Gras Day (French for Fat Tuesday) represents the last day of the Carnival season and is often hailed as "The Greatest Free Show on Earth."
Mardi Gras Indians
Various "tribes" of Mardi Gras Indians march in different parades throughout Carnival, adorned in elaborate costumes and beautiful headdresses that they work on all year. The tribes consist of African-American members and pay tribute to the Native Americans that helped protect runaway slaves in New Orleans.
Moon Pie
A common throw at many parades since the 1950s. A moon pie is a dessert sandwich featuring graham crackers and marshmallow in a flavored coating. They can be chocolate, coconut, vanilla, or even banana.
Neutral-Ground Side
The neutral ground is the strip of grass between two roads; most other places refer to it as a median. People will usually let others know where they will be for a parade by saying they will be on the neutral-ground side or the sidewalk side of the street.
Orpheus
This Super Krewe features iconic elements like the Smokey Mary train, a celebrity monarch, and giant, hand-painted flowers covering its floats.
Parades
Carnival and Mardi Gras parades are like no other. They feature marching bands, Mardi Gras Indians, and much more. However, the star of every parade is the intricately decorated floats with masked riders that toss everything from beads to toys and other fun throws to eager crowds.
Rex
One of the longest-running parades in New Orleans, Rex is Latin for king. The Krewe of Rex rolls on Mardi Gras Day, and its ball marks the end of Carnival. The organization's colors of purple, green, and gold are also the official colors of the season. The king of the Rex organization is also known as the King of Carnival.
Royal Court
Every krewe carefully selects various members to be its king, queen, dukes, maids, and grand marshals each year. There are often very long waiting lists to become one of these sought-after positions. The royal court rides in the parade and is typically presented at the organization's ball.
Social Clubs
There are several social clubs in New Orleans that host various events throughout the year. These clubs gather socially and are usually active in community service and charity work. Many of the clubs participate in carnival, march in parades, or have their own parades. Two of the most popular social clubs parade on Mardi Gras Day; they are Rex and Zulu.
Super Krewes
The three big Super Krewes of Carnival are Bacchus, Endymion, and Orpheus. They're marked by huge parades, celebrity guests, lavish floats, and extravagant throws.
Throws
Anything that you can catch from a parade, including beads, cups, doubloons, stuffed animals, and other trinkets, are called throws. Usually, parade krewes will also feature unique items, like signature beads, or exclusive throws like decorated shoes from the Krewe of Muses and bedazzled purses from the Krewe of Nyx.
Zulu
The Zulu Social Aid and Pleasure Club, Inc. is a predominantly African-American organization that participates in various community and social events throughout the year. Zulu hosts one of the most famous carnival parades and rolls on Mardi Gras Day. One of the most highly prized Mardi Gras throws is a decorated Zulu coconut.

Now that you know the lingo, it's time to celebrate Carnival NOLA style! Even with parades and balls canceled due to Covid, Mardi Gras endures with all sorts of socially distanced fun. So, even if you might not be shouting, "Throw me something, Mister!" you can still declare, "Let the good times roll!"