Haunted Happenings at the Andrew Jackson Hotel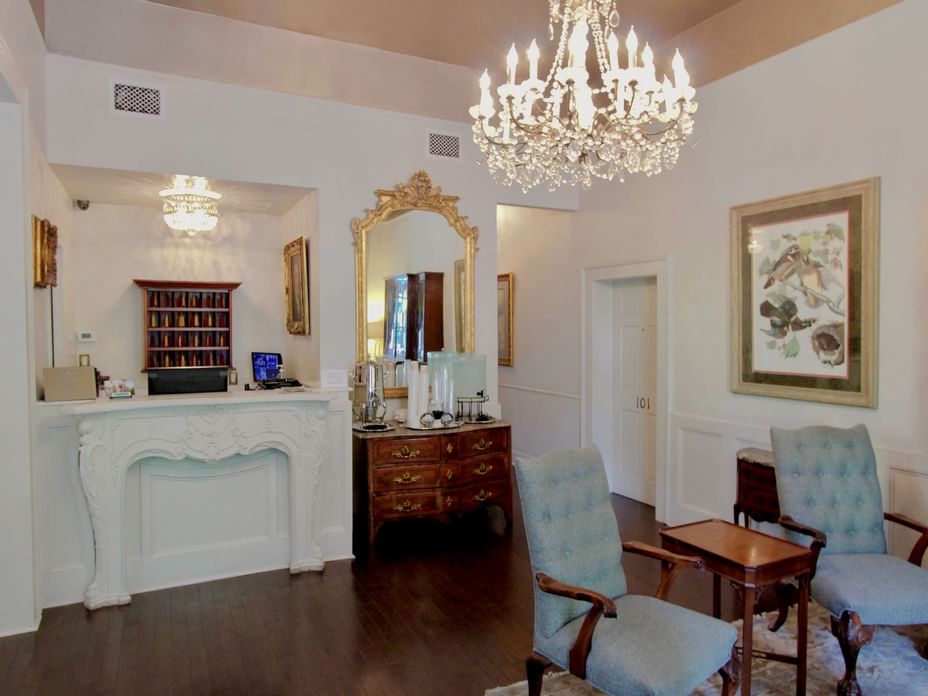 People travel to New Orleans for all different reasons; whether it's to be surrounded by NOLA's rich history and past, experience its world-renowned music and cuisine, or perhaps indulge in its vibrant nightlife. However, there's a whole other side to New Orleans that calls out to many intrigued visitors, and it has to do with the fact that the Big Easy is just as haunted as it is historic.
There is no denying that the city is full of incredible sights to behold, but not all of them are always easy to see. Many visitors hope to sample the more supernatural side of New Orleans during their time here, and there are ample opportunities for a chance to do just that; especially if you choose to stay at the most haunted hotel in New Orleans, the Andrew Jackson Hotel.
Today the Andrew Jackson boasts French Quarter charm and southern hospitality while lavishing guests with all of the modern conveniences. You can enjoy complimentary wi-fi, relax in verdant and serene courtyards, and enjoy being just minutes from a host of popular New Orleans attractions. However, this prime location wasn't always home to a hotel, which is why when you stay there, you might just find you're never really alone. Intrigued? Allow us to introduce you to several of the specters that you might encounter during your stay, and familiarize you with their stories.
The Five Orphan Boys
The current building that is now the Andrew Jackson Hotel was built in 1890, but the site on which it stands already had many tales to tell before the hotel was constructed. In 1792, the grounds were home to a boarding school and orphanage for boys, many of whom had lost their parents to Yellow Fever. Just two years later, in December of 1794, a devastating fire swept through the city, destroying a large number of the incredible buildings throughout the Quarter. The successful boarding school was one of the buildings that crumbled among the flames, and inside of it, five young orphan boys perished. Today, guests have sworn that they have heard laughter and footsteps as the boys run around the hotel and play in the courtyard. Some guests have even claimed to be on the receiving end of harmless pranks, such as turning televisions on at night and other ghostly hijinks.
Armand
If you really want to have a truly chilling experience, request to stay in room 208, known to be the most haunted room of the whole hotel. The main ghostly resident of room 208 is a young boy named Armand, one of the orphan boys whose unfortunate end is the source of some debate. Some say he was thrown from the second-story balcony, perhaps in an attempt to save him from the flames, while others claim he committed suicide; but one thing is for certain, Armand likes to play games with the living. Guests have claimed to feel something cold touch their skin, others have said their sheets have been pulled around them at night, while others have been pushed out of their beds. Although Armand never seems to wish any ill-will, he's just having a little bit of childish fun, guests still get a chill when lights and faucets turn on and off by themselves, and personal belongings are moved from one place to another, or even disappear completely.
A Helpful Spirit
Another common ghost-sighting of a number of guests and hotel employees is that of a woman who appears to be straightening up the rooms, fluffing pillows, and is even suspected of rearranging the furniture. While some say it is a former housekeeper of the hotel, many believe it might be the caretaker of the young boys, still watching over them and keeping things tidy. She's been spotted in several of the hotel rooms, and most frequently in the hotel lobby, but you never know where she might appear next.
Andrew Jackson
After the boarding school burned down in 1794, a US Federal Courthouse was erected at the site and remained until before the turn of the 20th century, when it was demolished. It was the courthouse where Major General Andrew Jackson was indicted for contempt of court and charged with obstruction of justice, shortly after Jackson and his troops defeated the British in the Battle of New Orleans. Many guests have claimed to spot the ghost of Andrew Jackson parading around the halls of the hotel, but of course, it begs the question, why? After all, Jackson didn't die in the hotel, but who's to say what makes ghosts do the things that they do?
Why not come investigate for yourself? During your next French Quarter visit, stay at the beautiful Andrew Jackson Hotel, and experience a piece of New Orleans's haunted history from the comfort of your very own hotel room.