Explore New Orleans Art Galleries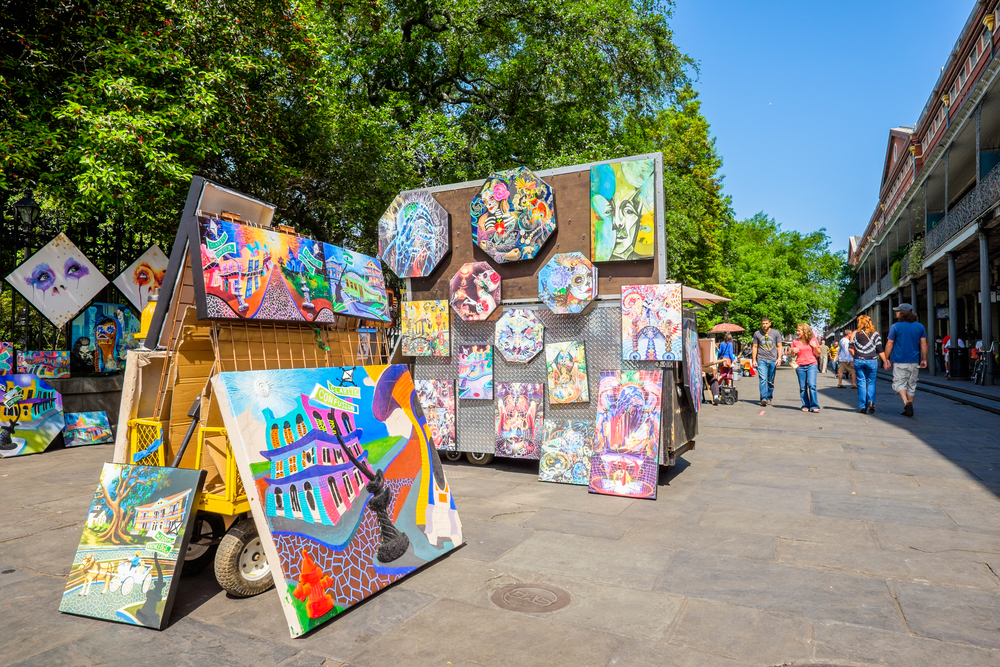 If you find yourself on Royal Street in the French Quarter you'll notice a stream of art galleries, from fine art to pet portraits.
Royal Street is one of the original streets in the city, dating back to the 18th century. It is known for its antique and chandelier shops, but as those home accents decrease in popularity, art galleries have become the new Royal Street staple.
If you're staying with us at Andrew Jackson Hotel, make sure to check out these nearby art galleries located on Royal Street and around the French Quarter.
The vibrant, eccentric works of Jamie Hayes are instantly recognizable around Nola after you've been exposed to his work -- his creations are singular, whimsical, and the essence of New Orleans. Hayes is colorblind, which makes his color palette all the more interesting. His gallery is a New Orleans favorite and a great place to grab a souvenir, t-shirt, poster or gift to remind you of the city. Open 9-7 daily.
The late, great William "Bill" Hemmerling used materials available to him and created moving pieces that interpret Southern life and culture. His works were often featured on the New Orleans jazz festival posters and often feature scenes of southern blacks. Hemmerling was self-taught and usually painted on old boards -- today his art gallery features other folk artists with humble mediums. The gallery is open Mon-Sat 11-6 and Sundays 12-5.
With over 40 years in the French Quarter, the Elliott Gallery has an impressive collection of modern and contemporary art from around the world. Artwork includes pieces by Salvador Dalí, Pablo Picasso and Raoul Dufy, to name a few. For serious collectors, make sure to check out the gallery's weekly art sales that offer 10-30% discounts. Open 10-5 daily; open until 6 weekends.
This gallery is somehow extremely elegant and playful at the same time, featuring James Michalopoulos' bright, abstract expressions of vibrant scenes. Some of his colors seem to glow. Stop by during the week from 10-6; open til 9 Thurs-Sat.
--
Booking your stay in The Big Easy? Check out the affordable, colonial Andrew Jackson Hotel located right in the French Quarter.
---
---